Collett & Sons has completed the delivery of all wind turbine components for the Twentyshilling wind farm in Scotland.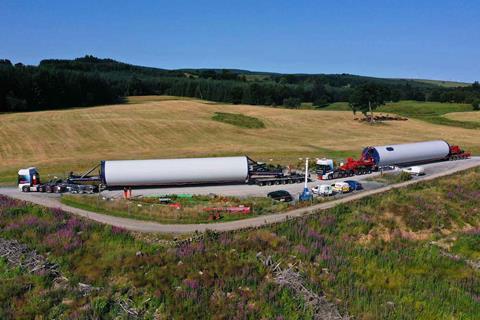 Collett was tasked with the planning and delivery of nine Vestas turbines. Transport of the components began in June 2021 from King George V Dock. Each turbine is made up of three tower sections, three blades, a nacelle, drive train and hub – all of which needed to be moved 273.6 km to the site.
Collett Consulting surveyed the route in detail and undertook a test drive of journey in order to identify several route modifications. For example, 3.2 km from the construction site, on the approach to the wind farm, the 57 m loaded blades would be unable to make the necessary left turn. It was proposed that the construction of a turning head at this location would provide the required clearance to allow all 27 of the blades to safely navigate the turn.
Working to a two-day delivery schedule, with three deliveries per convoy, Collett called upon its specialist heavy-duty trailers to deliver the 81 individual components. Super-wing carriers were used for the 14.9-tonne blades; specialist clamp trailers were deployed for the bottom and middle tower sections, which weighed up to 44.5 tonnes; and the remaining components were moved on five and six-axle step-frame trailers.