Collett & Sons, in collaboration with Karl Gross, transported a 160-tonne turbine and 120-tonne generator from the port of Tilbury to the Rookery South Energy Recovery Facility (ERF) in Bedfordshire, UK.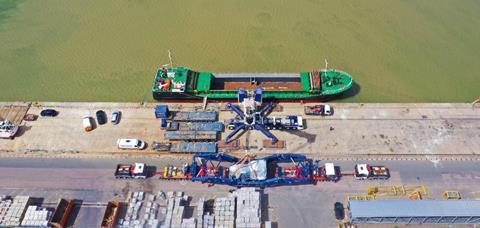 The largest item – the turbine – measured 8.9 m x 5.3 m x 4.8 m and was discharged onto a Scheuerle 550 girder bridge trailer. Collett said that the biggest challenge was keeping the loaded height below 4.95 m to allow movement on the roads.
Working closely with the port of Tilbury, Collett planned the discharge operations, including crane lift plans and a programme of works. Collett also identified several areas where street furniture needed to be removed to allow the 70 m-long combination to depart the port.
The turbine and generator, which was loaded onto a modular trailer, then began the 78-mile (125.5-km) journey to the project site.
The Rookery South ERF is scheduled to become operational in 2022.