Consolidated Shipping Services (CSS) has continued to support the construction of a power and desalination plant in Bahrain with the delivery of approximately 1,758 tonnes of heavy lift and over-dimensional cargo.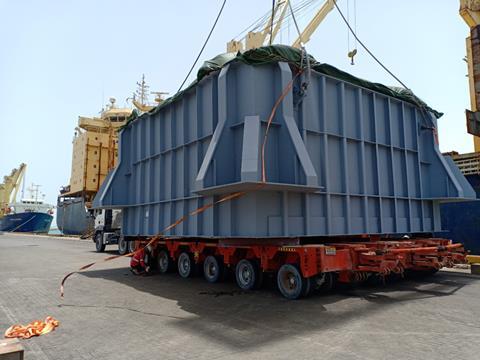 CSS' scope included receiving the project cargo under hooks at APM Terminals' facility in Khalifa Bin Salman port. The company then moved the cargoes to port storage and placed the heavy lift items on stools.
After completing Customs, police and ministry clearance procedures, CSS transported the components to the project site.
CSS Bahrain's Thiyagarajan Vadivelu said that the biggest challenge the company faced was the handling of two pieces of oversized cargo that weighed 35 tonnes and 83.7 tonnes.
CSS Bahrain is a member of the Project Cargo Network (PCN).