deugro has coordinated the transport of 120,000 freight tons of petrochemical equipment on behalf of its client Hyundai Engineering from South Korea and China to Police, Poland for the EGAT project.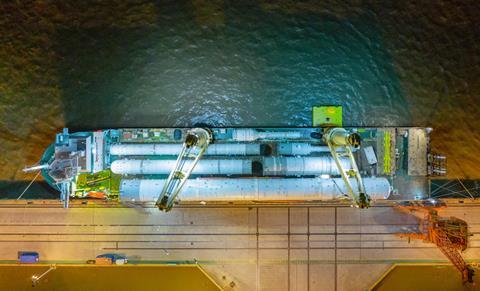 HLPFI reported on deugro's involvement in the EGAT project earlier this year, when the project forwarder loaded 249 pieces of cargo weighing 2,091 tonnes onboard Spliethoff's Pietersgracht at the ports of Gunsan and Masan, South Korea.
40 pieces of equipment, totalling 2,000 tonnes, were also loaded aboard Jumbo Jubilee in Zhangjiagang, China. This shipment included a propylene propane splitter that weighed 889 tonnes and measured 96 m x 9.35 m x 8.9 m.
Other cargoes handled by deugro include propylene storage bullets and a 596-tonne reactor.
The cargoes were shipped to the port of Morski in Poland, where deugro (Korea) and dteq Transport Engineering Solutions supervised the discharge operations where temperatures dropped to -17 °C. Icebreakers and special tugs had to be arranged prior to berthing. The main equipment was discharged directly from the vessels onto barges for onward transportation to the Barkowy jetty, 6 km away.
From there, the cargoes were transported to the construction site.
"To ensure a safe movement, extensive traffic management measures were prepared in advance over a period of one year. These included the construction of new roads, a temporary 650-tonne bridge and a new site entrance, the modification of a building along the route and several road widenings. Streetlamps had to be replaced by foldable types, electric railway wires disassembled, local 110-kilovolt power lines shut down and steam pipes and medium-voltage wires moved underground," said Eun-Ji Baek, project manager deugro (Korea).