deugro has coordinated the transport of three reactors weighing up to 663 tonnes to Kelheim in Germany.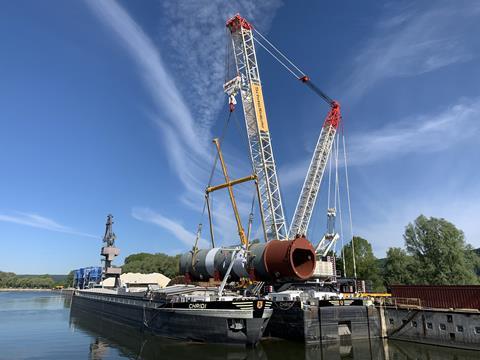 During the first phase of this project, deugro shipped the first reactor from Koper, Slovenia, to Kelheim, Germany. The unit measured 25.7 m x 5.2 m x 4.3 m and weighed 343 tonnes.
deugro Netherlands arranged for the loading of the reactor, the journey from the port of Koper to the port of Rotterdam, in the Netherlands, and the onward voyage on a barge from Rotterdam to the port of Kelheim, Germany.
The second phase of the project saw deugro transport the two further reactors from Italy. One of the units was a 663-tonne hydrocracking reactor, which measured 32.8 m x 6.6 m x 6.6 m, and the other a 597.6-tonne hydrotreating reactor with dimensions of 29.7 m x 6.4 m 6.3 m.
The hydrocracking reactor was loaded in Ortona and the hydrotreating reactor was loaded in Porto Marghera. The complete shipment took a sea voyage route from Porto Maghera to Rotterdam in the Netherlands.
Upon arrival in Rotterdam, both reactors were directly discharged onto a coupling barge for the onward barge shipment to Kelheim, Germany. Due to the time-critical nature of the shipment, deugro said a 24/7 sailing programme was required, necessitating three skippers to be present on the barge at all times to ensure safe round-the-clock navigation of the cargo.