Edwards Moving & Rigging has transported 24 heat recovery steam generators (HRSG) and two HP drums 100 miles (161 km) from the port of Indiana-Burns Harbor to a construction site in Michigan, USA.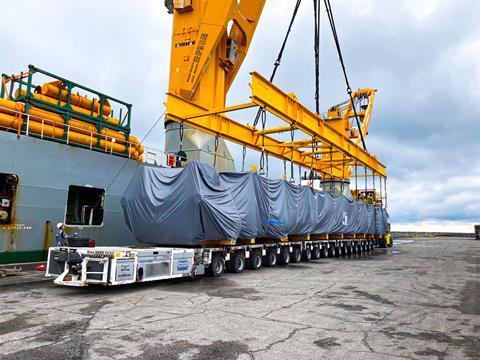 Edwards was contracted by an original equipment manufacturer (OEM) to handle the modules, which weighed up to 278.4 tonnes.
At the port of Indiana-Burns Harbor, the cargoes were loaded onto Goldhofer PST trailers and transported to a staging area where they were set on a pre-staged grillage provided by Edwards.
At the port, Edwards set up its J&R 550-ton (499-tonne) capacity gantry to transload the HRSG modules for the road transport to the site.
A schedule was established whereby each day a load would travel from the port to the site, and the following day while the empty trailer was returned to the port, the next loaded trailer made the transit. This required Edwards to maintain 90 axle lines of Goldhofer trailers and six prime movers for the duration of the project.
Edwards explained that Indiana-Burns Harbor was the closest port capable of handling a project this size. The cargoes then had to travel across northern Indiana and into southwest Michigan to the construction site. The company added that a major road construction project required the transit to go north of the site location and then back down through several small localities to arrive at the newly constructed combined-cycle plant.
Edwards engaged the services of Michael Baker International to obtain permits to cross bridges along the route.