USA-based heavy haulage and rigging specialist Edwards Moving & Rigging has delivered six oversized press components to a manufacturing facility as part of a turnkey solution.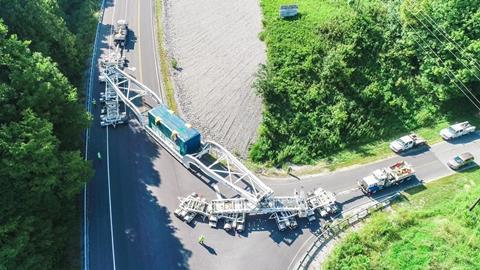 The components weighed 151 tonnes on average, with the heaviest load weighing 203 tonnes.
After arriving at the port of New Orleans onboard an ocean-going vessel, Edwards moved the units to prearranged beams and stands on a deck barge. The cargo was then transported via inland waterways to the Eddyville river port on Barkley Lake in Eddyville, Kentucky.
At the port, a 12-axle-line PST/SL Goldhofer trailer offloaded the units from the barge. A 635-tonne gantry with side-shifting capabilities then loaded the cargo onto an Aspen 500 trailer measuring 108 m long, 21 m wide, and weighing between 362-462 tonnes, depending on the component.
Once secured, the cargo made a 49-mile (78-km) journey to the manufacturing facility, totalling six trips overall. On site the units were loaded onto a nine-axle-line PST/SL Goldhofer trailer and finally set upon beams and stands ready for installation.