Höegh Autoliners has transported rail tamping machinery from Europe to Australia for a railway maintenance project.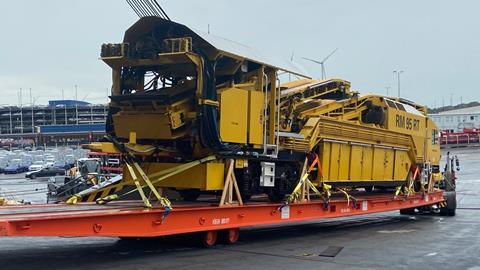 The shipping line utilised its custom-built rolltrailers, equipped with integrated rails, for the ro-ro operations.
The shipment consisted of ten units, one of which weighed 153.9 tonnes. This was split into two sections, with the heaviest piece tipping the scales at 83.5 tonnes – Höegh said this posed a challenge as it was on the limit of the rolltrailer's 90-tonne capacity.
Einar Bassøe, head of global cargo operations, said that the weight of the unit needed to be distributed on two defined areas on the roll trailer. "We came up with a solution to use one of our 80 ft rolltrailers with modified bogies. This means that the location of the bogies (wheels) is re-positioned to handle the heavy point-load of the cargo," Bassøe said.
Once the optimal position was verified, the units were loaded on the rolltrailers and wood dunnage beams and lashings were added to ensure the cargo was properly supported during the entire transportation process.