Höegh Autoliners has transported three 52-tonne mud pumps and accompanying accessories from Mumbai, India, to Cartagena, Colombia.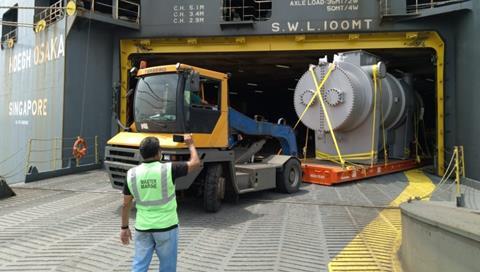 Höegh handled the equipment – which was required for an oil well drilling project – on behalf of Mumbai-based Om Freight Forwarders.
Atuldutt Sharma, breakbulk sales manager at Höegh in India, said: "The customer had a specific deadline to ship the critical cargo from Mumbai to Cartagena. With our regular liner service to the Caribbean, it not only offered the best transit time, but also the possibility to plan for the important shipment."
The shipping line said that the 4.5 m-tall mud pumps "could have posed a challenge with the height clearance of our vessels, which are around 5 m". To overcome this, Höegh deployed its super-low rolltrailer concept. The customised handling equipment is 47 cm high, enabling the transport of cargoes that are 23-30 cm taller than could previously be shipped on its vessels.