Kamor Logistics has delivered railway vehicles for the Tel Aviv Light Railway project in Israel.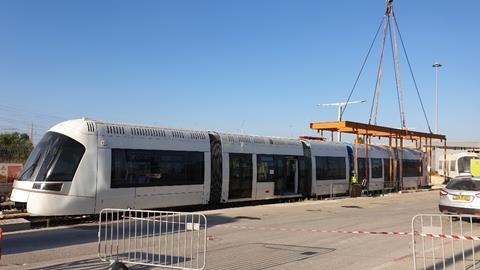 12 units, which will be coupled into six railcars, were transported from Tianjin, China, to Ashdod in Israel onboard the general cargo vessel Yu Rong.
The shipment included smaller 22.4-ton (20-tonne) vehicles, measuring 14.6 m x 2.65 m 3.6 m, as well as units measuring 20.2 m x 2.65 m x 3.6 m, which tipped the scales at 31 tons (28 tonnes).
The units were discharged onto lowbed extendable trailers using port cranes working in a tandem operation. Kamor Logistics then delivered the vehicles to the project's main depot, which was 50 km from the port.
This was the fourth shipment that Kamor Logistics has handled for the project in the last nine months. In total, the company will deliver 90 cars.
Kamor Logistics is a member of the XLProjects (XLP) network.