Jumbo has deployed slings from under-the-jib equipment and rigging equipment supplier Lankhorst Ropes to install transition pieces onto monopiles at the Yunlin wind farm in Taiwan.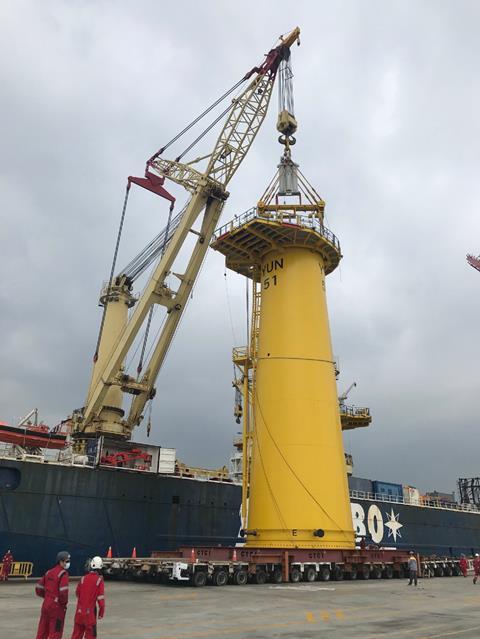 The slings were used to help lift and position 80 transition pieces, which weighed 450 tonnes each, from the heavy lift crane vessel Jumbo Javelin.
Jumbo Javelin features two rotating mast cranes with a combined lifting capacity of 1,800 tonnes. For this project, 1,600 tonnes was the combined lifting capacity with the use of the Jumbo fly jib – a modular crane extension – at a maximum outreach of 28 m.
Lankhorst Ropes' LankoForce slings were fitted to a lifting tool used to aid the correct positioning of the transition pieces. As the lifting and positioning tool features multiple slings, Lankhorst manufactured the slings to tight tolerances of +/- 1.5 percent.
Jochem Tacx, project manager at Jumbo, said: "The Lankhorst slings provide the strength and level of control we need when lifting and positioning the transition pieces…moreover, they are easy to handle and maintenance free."