Lift & Shift India has handled a 4,532-tonne living quarter module for the new water injection platform (NWIS) Mumbai High North offshore project.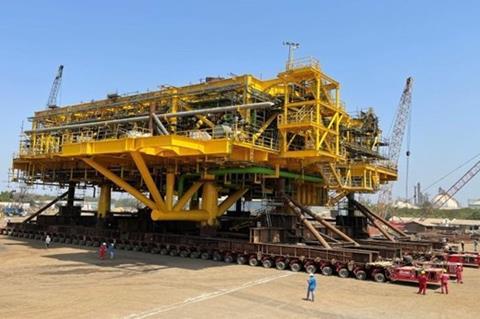 Lift & Shift said that unit is the heaviest module fabricated in India and the heaviest load-out that the company has handled in the country. It was also the final module load-out that Lift & Shift handled for the project.
Larsen & Toubro (L&T) contracted Lift & Shift to handle seven modules with a total weight of 23,500 tonnes for the project. Five of the modules weighed between 3,000-4,400 tonnes, and one module tipped the scales at 685 tonnes.
The first module – weighing in at 4,432 tonnes – had to be shifted over 1 km on 188 axles and then rolled onto the barge. The module had a width of 52 m, which made it one of the widest modules that was fabricated and transported.
The second module, the West deck, weighing 3,700 tonnes was loaded on a total of 160 axles. The West deck also measured 52 m wide.
For the transport of the living quarter module, the combination had to navigate a hairpin turn. After a two-and-a-half-hour operation to reach the jetty, the module was rolled onto a barge.