Lift & Shift India has transported three massive LC MAX reactors manufactured by Larsen & Toubro (L&T).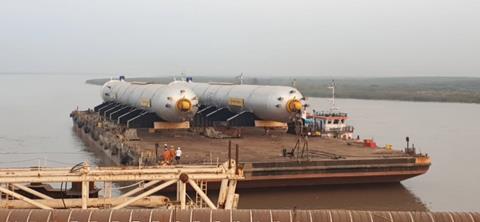 Weighing 2,200 tonnes, 2,208 tonnes and 2,313 tonnes, the reactors were manufactured in Hazira, Gujarat, for delivery to a Hindustan Petroleum Corporation Limited (HPCL) project in Visakhapatnam.
Lift & Shift was contracted by L&T to move five components in total. The scope of work involved moving these cargoes from the fabrication yard to the jetty in Hazira, rolling them onto a barge, transport to Hindustan Shipyard Limited's (HSL) jetty in Visakhapatnam, offloading in Visakhapatnam, and road transport to the HPCL refinery.
The weight of the cargoes ranged from smaller 650-tonne pieces up to the largest 2,313-tonne reactor. This heaviest unit measured 72 m long, 12.2 m wide and 7.7 m tall. For the transport operations, 96 axle lines and three power-pack units were required.
Due to the cargo dimensions, road fixtures had to be dismantled for 5 km of the route.
Lift & Shift, in consultation with the authorities, decided to move the cargoes at night to minimise disruption.