Mammoet and OFCO – Offshore International have delivered two 140-tonne transformers to a power plant in Sharjah, UAE.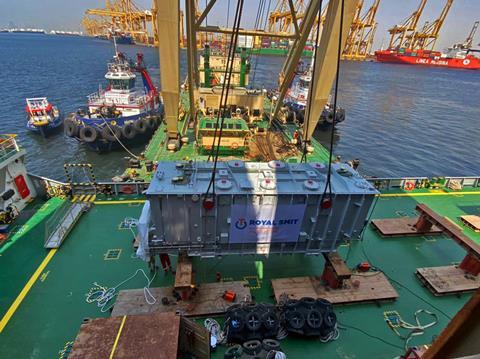 The cargoes arrived in Jebel Ali port onboard a container vessel and needed to be transported to the site in Sharjah for installation.
Following comprehensive risk assessment and engineering, the team proposed receiving the cargo via a double banking operation and marine transport to Sharjah's Khalid port. The cargo was discharged using a floating crane onto a landing craft.
At Khalid port, the transformers were then rolled off using SPMTs and then installed using a jacking and skidding method.
Mammoet and OFCO formed an alliance last year to collaborate to provide turnkey transport and installation solutions for projects in the UAE, with future ambitions to venture further into countries in the Gulf Cooperation Council (GCC), as HLPFI reported here.
Marine operations manager at Mammoet MEA, Harshad Deshpande, said: "By involving the alliance in the logistics of the power plant components, the customer took advantage of the increased flexibility for the cargo move, both marine and onshore, thereby saving time and additional costs such as port charges and double handling of the cargo."
Thomas Wylie, sales director – projects at Mammoet MEA, added: "The vision for our partnership was to create a unique offering and a real value for our customers in the GCC. By engaging us, the customers benefit from our optimised planning and operations, in-house assets, expertise and engineering know-how."