Mammoet has delivered 13 wind turbine tower sections for the second phase of the Astana Expo 2017 wind farm in Kazakhstan.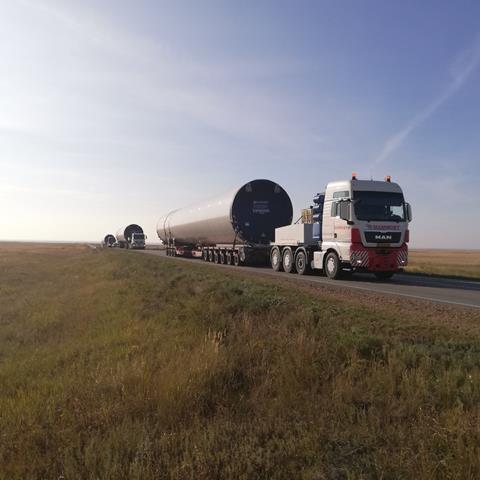 The cargoes were received at a Caspian port before Mammoet transported them 3,500 km to the project site – breaking its own record for the longest land transportation undertaken in the country.
Each tower section weighed 67 tonnes and measured 30 m in length.
Mammoet utilised its hydraulic modular trailers for the move, which it said help to overcome the uneven condition of the roads. The heavy lift specialist also said this helped to spread the weight of the sections, decreasing ground bearing pressure on bridges, thus reducing the requirement for costly civil work.
Mammoet also handled the permits, special escort vehicles, and temporary infrastructure changes required in addition to the transportation.
TSATEK Green Energy is developing the second phase of the wind farm, located in the vicinity of Nur-sultan. It will increase the output of the project from 52 MW to 100 MW.
Ali Yoldashov, general manager at Mammoet said: "Successful progress on the delivery of tower sections in the midst of the Covid-19 pandemic was achievable due to the outstanding collaboration of the project team and our partners: Kraft Spedition, ISS Global Solutions and Mainstream Logistics, and resulted in a follow-on contract for delivering the nacelles, each weighing 72 tonnes, to the jobsite."