Mammoet has set a 531-tonne bridge into place in Florida, USA.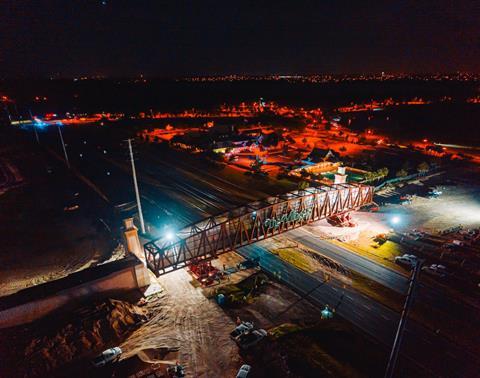 Measuring 88.4 m long, the structure was initially built at an elevation of 2.04 m. Using 250-tonne capacity hydraulic jacks, secured on SPMTs, the bridge was raised by a further 2 m. During the jacking phase, Mammoet utilised 19 layers of bamboo timbers – the first time the heavy lift specialist has deployed its bamboo solution in the USA.
The SPMTs then moved the bridge 100 m to the installation position between abutments, before the jacks lowered the structure into place.
According to Mammoet, the use of bamboo – as opposed to traditional jacking timbers made from the tropical hardwood azobé – is a more sustainable option. The beams are created from a bamboo and resin composite that provides increased stiffness and strength, added Mammoet.
The structure, known locally as the Chitty Chatty Bridge, is the second bridge that Mammoet has set across Florida's State Road 44; in August 2019, the company positioned the 363-tonne Brownwood Bridge over the highway at a height of 5.8 m. A third and final bridge is scheduled to be set later this year.