Mammoet was contracted by Siemens Gamesa Renewable Energy (SGRE) to offload and assemble 17 wind turbines at the Goubet wind farm in Djibouti.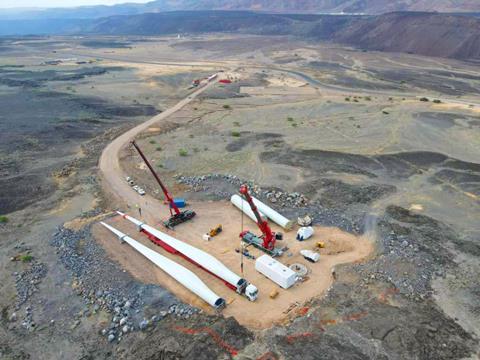 The windfarm is located on a 395-ha site near the Goubet cove in the Gulf of Tadjoura, Djibouti, and consists of 17 SG132 wind turbines.
In total, Mammoet handled 68 towers, 51 blades, 17 nacelles, and drive trains and hubs.
For the discharge on site and the installation of the first two tower sections, Mammoet provided several cranes with 60 to 1,200 tonnes of capacity.
For the installation and assembly scope, Mammoet positioned a Liebherr LTR 11200 telescopic boom crawler crane, purposely built for erecting of wind farm turbines, along with the support of Tadano ATF 220G and Terex A600 hydraulic cranes.
For the offloading and pre-assembly of the tower sections, the team utilised a 400-tonne capacity Liebherr LTM 1400 along with ATF 110G hydraulic cranes.
Mammoet said that the wind farm, which is Djibouti's first renewable energy farm, is scheduled to be commissioned later this year.