Disruption caused by Covid-19 and commodity price volatility has placed a huge burden on all sectors of the heavy lifting and project logistics supply chain. However, in Latin America, the mining sector has been a welcome source of logistics business.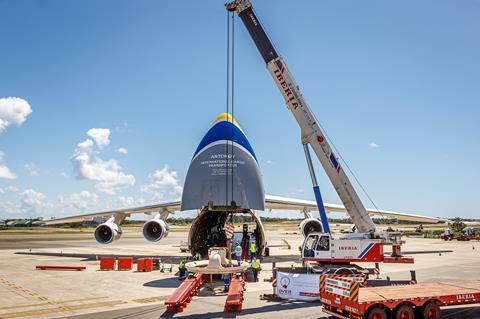 While other industries have been hit hard by price fluctuations and capital expenditure budgets being slashed, there are indications that mining sector has been somewhat shielded from the crisis. In Latin America, the movement of mining machinery continues to provide work for project cargo specialists.
For instance, Over Projects recently oversaw the transportation of three units of mining machinery from Santiago in Chile to Salvador, Brazil, onboard an Antonov AN-124 aircraft.
Each unit weighed close to 30 tons (27.2 tonnes), measured 4.33 m in diameter and had a height of 1.95 m.
Over Projects' project scope included coordinating the logistics operations in Chile; the construction of steel beam transport frames; the lifting and loading operations at the airports in Chile and Brazil; chartering the Antonov AN-124 freighter, with assistance from Finland's Oy Procargo - Professional Cargo Care Ltd; road transport permits; and onward delivery to the project site in Brazil.
Over Projects said that the project move was able to go ahead despite recent earthquakes north of Santiago and a transport strike.
Over Projects and Oy Procargo are members of the Worldwide Project Consortium (WWPC).