The first Parramatta light rail vehicle has been offloaded at Port Kembla's Australian Amalgamated Terminals (AAT).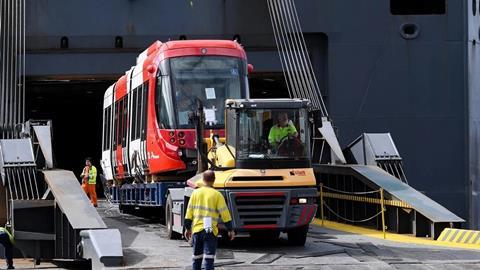 The 45 m-long dual electric vehicle arrived at the terminal onboard the Boheme Singapore before being transported to Parramatta.
NSW Ports commercial and business development general manager Campbell Mason said the arrival of the vehicle illustrated Port Kembla's capacity to handle large items of cargo and support the state's public transport projects.
"The light rail project is all about serving Greater Sydney's growing population – a task undertaken daily by NSW Ports and logistics providers operating in Port Kembla. The port handles hundreds of bulk and general cargo vessels each year carrying a diverse range of imports and exports.
"The direct road and rail links between Port Kembla and Greater Sydney help ensure productive and efficient supply chains for the people and businesses of NSW."
Each light rail vehicle can carry more than 400 passengers – the equivalent of six standard buses, which means fewer cars on local roads and reduced traffic.