Heerema Marine Contractors has installed TotalEnergies' biggest Tyra II topside – the 17,000-tonne TEG module – using its vessel Sleipnir.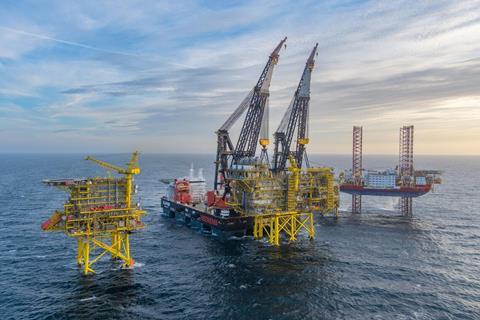 The processing module arrived at the Tyra field from Indonesia on October 3 onboard the heavy transport vessel GPO Emerald. The offshore crew then started to remove the sea fastening below the 47 m-tall unit ready for Sleipnir to lift the module, transport it one nautical mile to the bare jacket, raise the module by 9 m and then lower it onto the six legs.
According to Heerema, the lift of the TEG module broke a world record as the heaviest crane lift ever undertaken at sea.
In the coming weeks, the final Tyra II pieces – two bridges and a flare – will be installed.
Lars Bo Christiansen, project director deputy for TotalEnergies EP Denmark, said: "The team has been preparing this world record lift for years, and it was truly impressive to see how the planning culminated in just six hours when the world's largest crane vessel Sleipnir helped us to put the enormous new process module into final position. I'm very pleased that we executed this crucial lift ahead of schedule in our new project plan. Only three more lifts to complete and then our new Tyra II will be in its final shape."