UK-based specialist shipping company Robert Wynn and Sons coordinated a beach landing of its heavy lift ro-ro barge Terra Marique at the Black Rock Sands beach in Wales to deliver a 128-tonne transformer.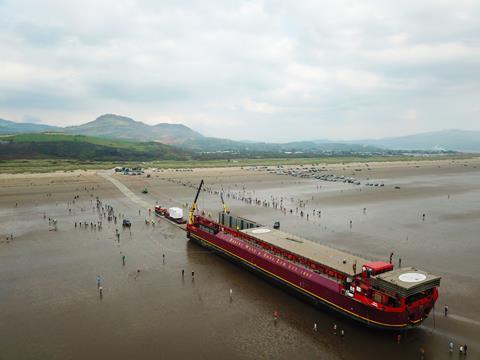 Working on behalf of Mammoet, which was in turn contracted by Siemens, Robert Wynn and Sons transported the unit from Rotterdam, the Netherlands. It was destined for the National Grid substation in Trawsfynydd.
Robert Wynn and Sons said that it identified the opportunity of using the beach to offload the component once it became clear that local stakeholders, including National Grid, were keen to avoid causing disruption at Porthmadog Harbour.
The 80 m x 16.5 m flat-bottomed barge manoeuvred onto the beach at high water, then as the tide receded the final 200 m of the 330 m-long aluminium trackway was laid. The transformer, which was loaded onto a 10-axle trailer, was then driven off the barge and up the beach. Terra Maruiqe departed at the next high tide.
Robert Wynn and Sons said that the unique beach landing required a marine licence, ecological consent from Natural Resources Wales, and permissions from beach owners The Crown Estate and Gwynedd Council.
Andy Manners, general manager at Robert Wynn and Sons, said: "While the Terra Marique is purpose-built for such operations, and having carried out similar operations in Hampshire and Pembrokeshire in the last 18 months, working in such a sensitive environment there is always detailed planning and collective working required to successfully carry out such a challenging operation."