dship Carriers has delivered seven straddle carriers from Gdynia, Poland, to the port of Brisbane, Australia.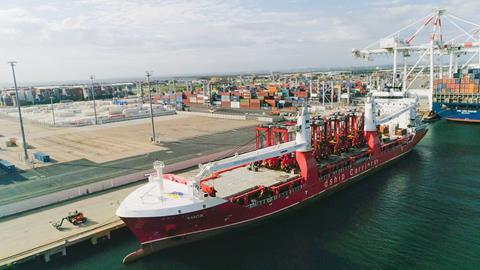 Each straddle carrier weighed in excess of 71 tonnes and measured 10.93 m x 13.09 m x 5.26 m. On behalf of Kalmar, the units were loaded onboard dship's multipurpose, heavy lift vessel Mick.
The order for the large volume of cargo was placed at short notice, with less than week between the booking and the loading operations taking place. Within just a few days, the dship team provided the client with a carefully engineered lifting and stowage solution so that operations could begin immediately.
After the dship team finished the seafastening operations, Mick could set sail according to schedule and arrived at the port of Brisbane.
All straddle carriers were discharged under dship's scope and delivered on time.
"It was a great opportunity to showcase our capabilities and flexibility to our clients. We could step in with a solid solution with less than a week between the booking of the cargo and the execution. Our whole organisation worked together, from the commercial team to our port captains and finally the operations team," said Lars Feller, global vice president of dship Carriers.