Chile-headquartered heavy lift contractor Tecnogruas has lifted a Liebherr Mobilmix 2.25 horizontal mixing plant using an Enerpac SBL500 hydraulic gantry.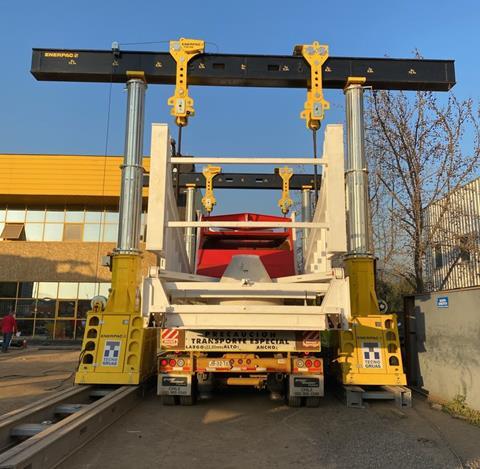 The plant needed to be loaded onto trailers for transport from Santiago to a project in northern Chile. The Liebherr Mobilmix mixing plant, when assembled, comprises aggregate hoppers and cement silos on their own steel foundations.
It weighed approximately 50 tons (45 tonnes) and measured 17 m long, 3.2 m wide and 3m high. The length of the mobile plant's carrying frame made careful planning essential, said Enerpac.
The Enerpac gantry was positioned close to each end of the frame, ensuring that it remained level throughput the synchronised lift onto a flatbed trailer.
"This was a relatively simple but nonetheless delicate lifting project, due to the dimensions of the concrete plant," said Franyel Moreno, Tecnogruas project supervisor.
"Our Enerpac SBL500 gantry is the perfect equipment to perform this type of project, guaranteeing a stable and safe lift. A team of four people completed the project in two days, including assembly, lifting and disassembly."