Volga-Dnepr has delivered two Mi-8 helicopters from Almaty, Kazakhstan to Kuala Lumpur, Malaysia to support seasonal wildfire fighting efforts.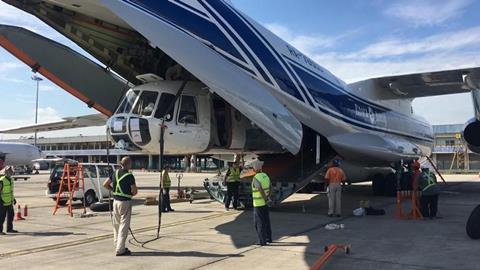 The 20-ton (18.14-tonne) helicopters were transported for Indonesian air charter specialist PT Komala. The shipment included spare parts and accessories, and was delivered aboard one of Volga-Dnepr's IL-76TD-90VD aircraft. The twin-turbine helicopters were disassembled to meet loading requirements.
Ekaterina Andreeva, commercial director for Volga-Dnepr, said that helicopter transportations can be highly technical operations and specialised planning is required.
The airline added that in light of Covid-19, all its aircraft are sterilised and crew is equipped with PPE.