Gulf Maritime General Trading and Contracting has handled a 173-tonne transformer in Kuwait.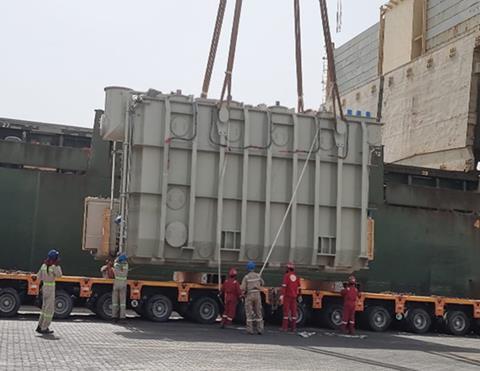 The transformer – measuring 10 m x 4.6 m x 5.2 m – arrived at Shuaiba port and was moved to a jobsite 125 km away on a 12-axle trailer. The project was executed jointly with Hansaeng Express for the Ministry of Electricity of Kuwait.
Due to the dimensions of the transformer, it had to travel along a longer route to avoid bridges. Road dividers had to be removed and, in some locations, the convoy had to drive against the traffic. To avoid the trailer getting stuck in the sand, a serve road had to be levelled and compacted.
The transport was executed under a special permit and police escort. The main trailer was escorted by pilot vehicles and an additional lowbed trailer was deployed to carry the grader and forklift to remove road obstacles during the movement.
On arrival at the site, the transformer was stooled down for a jacking and sliding operation.
Both Gulf Maritime General Trading and Contracting and Hansaeng Express are members of the Worldwide Project Consortium (WWPC).