Sarens equipment perform heavy lifts on the Thaioil Clean Fuel project in the Chonburi province of Thailand.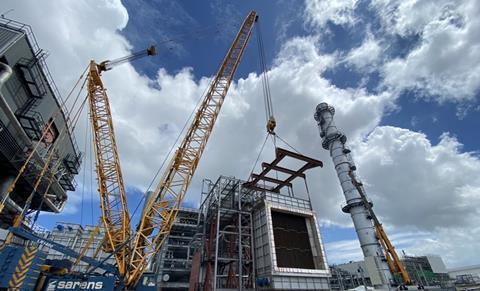 Sarens is pleased to be providing equipment for several heavy lifts on the Thaioil Clean Fuel project in the Chonburi province of Thailand. Thaioil's expansion and upgrade of its facilities at the Laemchabang refinery will enhance the energy security of the country.

Working on behalf of its client, comprising an unincorporated joint venture (UJV) between Petrofac, Saipem and Samsung (UJV), Sarens is lifting three heavy modules at the site using the following equipment:
LR1400 in SDWB 35+35m configuration
CC2500-1 in SSL 66m configuration
CC2800 in SWSL 42m+36m configuration
LR1600
CC6800

The equipment was selected by the UJV for its engineering feasibility and compatibility with project demands. Following selection, Sarens was quick to mobilise the equipment from the Sarens' yard in Thailand and set up within a week of reaching the work site. The equipment has now been on site since March 2022 and will remain on site through August 2023.

Sarens' mission is to be the reference point in crane rental services, heavy lifting, and engineered transport. With state of the art equipment and value engineering, the company offers creative and intelligent solutions to today's heavy lifting and engineered transport challenges. With more than 100 entities in 65 countries operating without borders, Sarens handles small-scale to mega-scale projects. It currently employs 4,452 professionals. Safety and excellence are key drivers for Sarens and the company strives daily to establish a safe space for everyone and everything related to its operations. Sarens has been the market leader for over 60 years; over four Sarens family generations are intimately involved in the business. Sarens continues to build the future on the foundations of its rich past and ensures that its clients will always stay ahead of the game when it comes to heavy lifting and engineered transport innovation.
View full Profile