BBC Chartering has taken delivery of the F500-type multipurpose vessel BBC Ukraine in Singapore.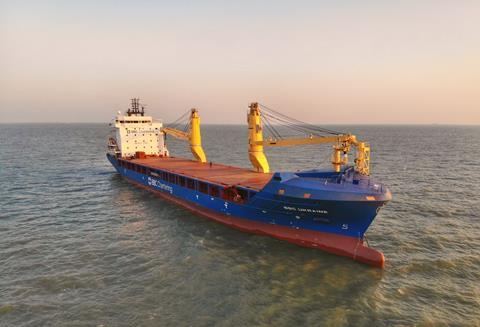 The ship was built at Taizhou Sanfu Ship Engineering in China. It measures 147 m long and is equipped with two Liebherr cranes each capable of living 250 tonnes at an outreach of 18 m. Combined the cranes can lift up to 500 tonnes.
Owned by Briese Schiffahrt, BBC Ukraine will be followed by three more F500-type sisterships during 2022. BBC Manilla will join the fleet in early April, BBC Sebastopol in July, and BBC Kherson towards the end of the year.
BBC Ukraine's maiden voyage will see it head to Futong in Indonesia before continuing via Map Ta Phut and Laem Chabang (Thailand), Kaohsiung (Taiwan), Ensenada (Mexico) and then on to Port Everglades and Houston in the USA.