Biofuel, produced from plants and other feedstocks to replace traditional fossil-based fuels, are gaining a foothold in the multipurpose and heavy lift shipping industry. Various trials are under way at a number of carriers.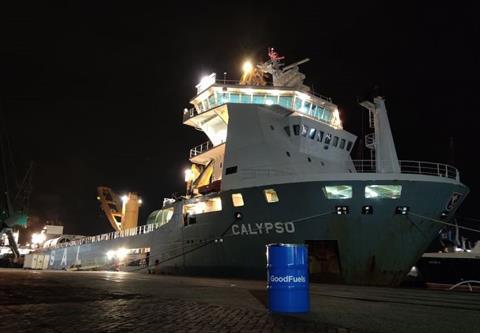 SAL Heavy Lift has trialled the use of biofuel on its vessel Calypso in collaboration with GoodFuels. 145 tonnes of GoodFuels' 100 percent pure biofuel was used for the trial. SAL said: "This is a small step in our ambition to become carbon neutral, but it's a hugely important one."
The German heavy lift shipping line's sustainability strategy, it added, has three core focus points: reducing carbon emissions, responsible consumption, and increasing sustainability awareness. The trial builds upon GoodFuels' existing cooperation with Jumbo Maritime, SAL's partner in the Jumbo-SAL-Alliance.
Earlier this year, the heavy lift vessel Jumbo Jubilee delivered three Liebherr cranes from Rostock to the Americas, powered mostly by biofuels from GoodFuels, as HLPFI reported here.

Prior to that, in 2019, Jumbo teamed up with GoodFuels to test the use of its sustainable marine oil on an offshore decommissioning project. The bio-fuel oil was supplied by GoodFuels' logistics partner Varo Energy and delivered to Jumbo's offshore vessel Fairplayer ahead of its departure to the North Sea.

The use of biofuels to reduce carbon emissions is gaining increasing attention from shipping lines and operators.
In 2021, ro-ro carrier Höegh Autoliners completed its first carbon neutral voyage from Europe to South Africa, running its ro-ro vessel Höegh Trigger on biofuels. At the time, the shipping line noted that "using advanced biofuels to run existing fleets has a strong potential to significantly reduce emissions today, while new ship technologies evolve".

Spliethoff Group, meanwhile, conducted trials to see if biofuel is suitable for use in combination with heavy-fuel oil (HFO), and to determine whether the biofuel can be stored in a bunker tank for a longer period before being used.

The first trial took place between June and November of 2021 on BigLift Shipping's vessel BigLift Baffin, which was supplied with a blend of 50 percent fatty acid methyl esters (FAME)-based biofuel – a second generation biofuel made from waste streams – and 50 percent conventional HFO.
Since the results of that trial were positive on both points, the next step was to test the use of 100 percent biofuel. This started in Amsterdam late last year when Spliethoff's multipurpose vessel Flevogracht was bunkered with 100 percent FAME-based biofuel.
While fuel consumption varies from vessel to vessel, one would expect more positive results. For instance, UECC's trials of GoodFuels' biofuel oil on its vessel Autosky, which took place between 2020-2021, resulted in a 58 percent reduction in carbon intensity on the vessel.
UECC said that "the results are striking", citing a reduction of over 20,000 tonnes of CO2 emissions, a reduction of more than 9,000 kg of sulphur oxide emissions and a similar total reduction in particulate matter.
Using the carbon intensity measure, on a grams of CO2 per tonne-km basis, UECC said that the carbon intensity of Autosky was reduced from 85.62 gCO2/tkm in 2019 to 35.96 gCO2/tkm in 2020 with the use of the biofuel oil.