Cadeler will acquire two newbuild X-class vessels for installation, services, operation, and maintenance work on offshore wind farms.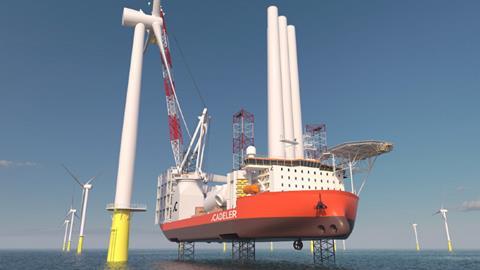 Cadeler originally announced the intention to acquire an additional X-class vessel in September 2020. Due to accelerating market demand the company said it decided to ramp up capacity further with the planned order of a second vessel.
The addition of the two X-class vessels will double the size of Cadeler's installation fleet.
Mikkel Gleerup, ceo at Cadeler, said: "Our aim is to support the green transition by building offshore wind farms. The delivery of two new vessels is great news for the offshore wind market, Cadeler, and the green transition as we see an accelerated need for installation capacity via more sophisticated vessels."
The ships will be a bespoke version of the NG-20000X-G design, developed in close partnership with GustoMSC.
Cadeler explained that it has seen interest from clients in this type of ship and its capabilities – the increased transit capacity that the X-class offers reduces the time and energy intensity of installation operations, thereby lowering total costs.
Cadeler has yet to announce which shipyard will be awarded the contract for the two newbuild vessels. The company expects the vessels to be completed by 2024 and 2025.