Cadeler has reached an agreement with an undisclosed customer that will see its hybrid F-class installation vessel, scheduled for delivery in 2025, contracted on projects between 2027 and 2030 – once again demonstrating the strong demand for offshore installation capacity.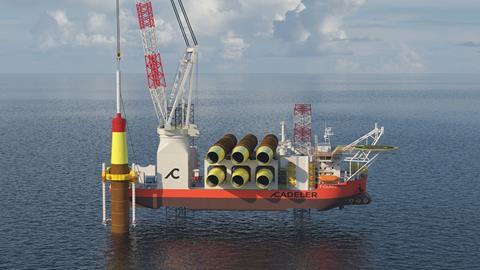 The F-class vessel can be converted from a foundation installation vessel (WFIV) to a wind turbine installation vessel (WTIV) within a short timeframe. Cadeler's latest contract ensures it will be put to work for a period of up to four years – with a minimum guaranteed utilisation – and a high level of flexibility for the client to choose to use the vessel for either foundation or wind turbine installation.
Prior to that deployment, the F-class will begin work on its maiden project in 2026 – installing turbine foundations at the Hornsea Three offshore wind farm in the UK.
Earlier in 2022, HLPFI reported on the high demand of Cadeler's fleet, with its capacity fully booked until 2026. At that time, the company's order backlog amounted to EUR547 million (USD543.1 million).
The potential value of this latest agreement – if all options are executed – could exceed EUR330 million (USD321.2 million).
Cadeler noted: "With an intensified focus on energy security and a global need to drive the transition towards renewable sources of energy, large developers of offshore windfarms are increasingly looking to secure the necessary business partners and assets e.g. subcontractors, installation vessels and crew for longer terms to ensure timely execution of the series of projects they have in their pipeline.
"This portfolio-based approach is also shared by the undisclosed customer in this particular case, which aims at securing the needed capacity for years to come to avoid bottlenecks and delays in project execution caused by lack of assets."
Certainly, there have been concerns about the availability of capacity to handle the increasing volumes of wind energy cargoes – including, but not limited to, wind installation vessels. The potential scale of the offshore wind energy sector will require suitable heavy lift vessels as well as supporting port infrastructure.
In HLPFI's July/August 2022 edition, we take a look at how the drive to substantially expand global offshore wind power risks being slowed by these potential bottlenecks.