Two landmark channel improvement projects in the USA have progressed in recent weeks, with the US Army Corps of Engineers (USACE) kickstarting the deepening of the Mississippi River Ship Channel and awarding a USD15.4 million contract for the first phase of the Freeport harbour channel improvement project.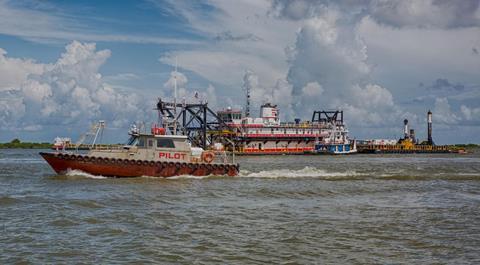 In Mississippi, Weeks Marine's cutterhead dredger Captain Frank started dredging on September 11. Later in September, a second cutterhead belonging to Manson Construction will begin operations to work on the first phase of the project.
The overall project will provide a draft of 50 ft (15.2 m) from the port of Baton Rouge to the Gulf of Mexico – over 256 miles (412 km) of the Mississippi River. In addition, the material dredged from the first 30 miles (48.2 km) of the project will restore an estimated 1,462 acres (591.7 ha) of critical marsh habitat.
The first phase – covering the port of New Orleans; St. Bernard Port, Harbor and Terminal District; the Plaquemines Port, Harbor and Terminal District; and the majority of the port of South Louisiana – will open up approximately 175 miles (281.6 km) of the ship channel to the deeper draft.
"The kick-off of this historic project is exciting for the entire maritime community," said Brandy D. Christian, president and ceo of the port of New Orleans. "It is the culmination of decades of hard work by all stakeholders involved from the Big River Coalition to Congress and the critical support of the State and USACE. The deepening project will harness the economic power of the river and the most competitive global gateway in the Gulf of Mexico."
In Freeport, Great Lakes Dredge and Dock Corporation received the contract for the first phase of the Freeport harbour channel improvement project, with construction slated to commence later in 2020.
The project, which will deepen the channel to depths ranging from 51 to 56 ft (15.5 to 17 m) and widen one channel section to allow larger vessels to call at Port Freeport, is broken down into five phases and is expected to take several years to complete. This first phase is scheduled for completion in May 2021.
"A deeper channel will enable Port Freeport to serve a wider range of global vessels which will expand our capacity, facilitate additional economic growth and support job opportunities for the entire region," said Phyllis Saathoff, executive director/ceo of the port.