Chinese-Polish multipurpose shipping line Chipolbrok is enjoying healthy westbound volumes ex-China. While its vessel Chipolbrok Atlantic is delivering several cargoes for the European side of these services, the North American trade lane has to contend with congestion issues.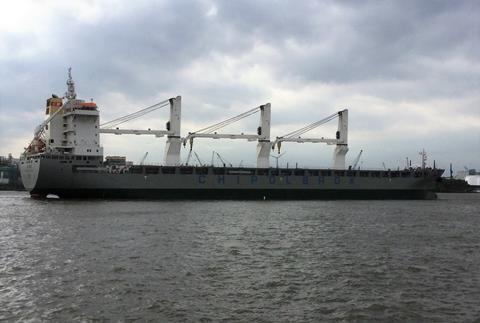 Chipolbrok Atlantic, after loading a variety of cargoes in the Chinese ports of Qingdao and Taicang, is heading west via the Suez Canal to offload in Antwerp (Belgium), Hamburg (Germany), Gdansk (Poland), and St. Petersburg (Russia).
As usual for Chipolbrok's services to Europe, a large portion of the cargo is destined for Antwerp. General cargo parcels, comprising machinery such as crawler crane parts, cone crushers and a turbine shaft will be discharged, along with 402 units of shipper-owned containers (SOC).
From Antwerp the vessel will move to Hamburg. Here rotor houses weighing 76 tonnes each and approximately 800 tonnes of general cargo will be offloaded.
The majority of the cargo on this voyage is destined for Gdansk. This includes 1,700 tonnes of food additives that have been stowed in large bags, 6,400 tonnes of steel coil plus industrial equipment and machinery.
The last discharging port – St Petersburg – will see roughly 2,600 cu m of general cargo, including two heavy units weighing 67 tonnes, offloaded from the vessel.
The next ship in Chipolbrok's roster that is heading to Europe is the multipurpose vessel Nowowiejski. It will be loading in Masan, South Korea, before heading to Taicang. On the European leg of the service, it will call in Barcelona (Spain), Antwerp, Hamburg, Stockholm (Sweden) and Gdansk.
Chipolbrok noted that its westbound services also cover the USA. This trade lane has been "booming" in the last couple of months due to a consistent flow of containerised cargo from China.
Nevertheless, the current supply chain constraints are having an impact. "Recently we can observe congestion is becoming a real issue not only on the US West Coast, where we avoid calling with our ships, but also in the US Gulf and US East Coast," said Chipolbrok.
"Some ports/terminals have started to reject bulk vessels carrying containers due to slow pace of discharging operations as well as lack of storage facilities. Chipolbrok ships are handled normally, however the duration of stay-time in the ports has also increased. Presently we are employing eight ships on these America services."