Construction of the EEW monopile manufacturing facility at the Paulsboro Marine Terminal in New Jersey, USA, has begun.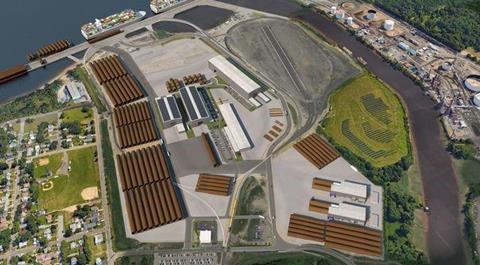 Ocean Wind – a joint venture between Ørsted and PSEG and the developers of New Jersey's first offshore wind project – said that the start of construction marks a significant milestone in delivering the largest industrial offshore wind manufacturing facility in the USA to date.
The manufacturing facility, when completed, will manufacture monopiles to supply the 1,100 MW Ocean Wind farm off the coast of southern New Jersey. EEW's facility will create as many as 260 jobs during the first phase of construction and manufacturing.
New Jersey governor Phil Murphy announced the USD250 million investment to develop the state-of-the-art manufacturing facility during December 2020, as HLPFI reported here.
Construction activities include clearing and grading of the 70-acre (28.3-ha) site, reinforcement to increase quayside bearing capacity to accommodate the 2,500-ton (2,268-tonne) monopiles, and the construction of two large buildings that will support circumferential welding, sandblasting, and painting.