DEME Offshore has won two contracts for the transportation and installation of foundations and a substation for France's Yeu and Noirmoutier offshore wind farm.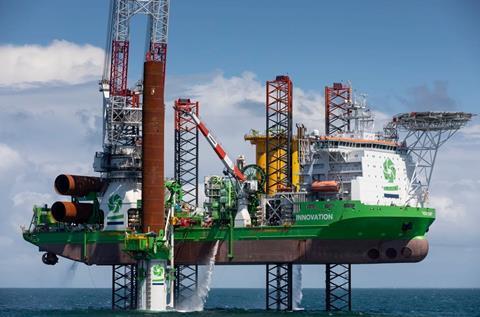 DEME will be responsible for pre-piling works for the offshore substation jacket, and the transport and installation of the 2,700-tonne topside. The scope of work also includes the transport and installation of monopile foundations and transition pieces.
The rocky topography of the seabed will require DEME's 350-tonne offshore foundation drill and a monopole drilling, installation and grouting system (MODIGA), developed with Germany-based equipment manufacturer Herrenknecht.
DEME's offshore installation vessel Innovation will be utilised for the operation. Similar techniques and vessels deployed at the Saint-Nazaire wind farm will be used for the substation pre-piling works, which are planned for the second half of 2023.
Allseas' vessel Pioneering Spirit will be used to install the substation jacket and topside. The installation of the monopile foundations, substation jacket and topside are scheduled for the first half of 2024.
The wind farm is being developed by Éoliennes en Mer des Îles d'Yeu et de Noirmoutier (EMYN), a consortium including Ocean Winds (an ENGIE and EDPR joint venture), Sumitomo Corporation, La Banque des Territoires and Vendée Energie.