DEME Offshore has installed the first jacket foundation at the 950 MW Moray East offshore wind farm in Scotland.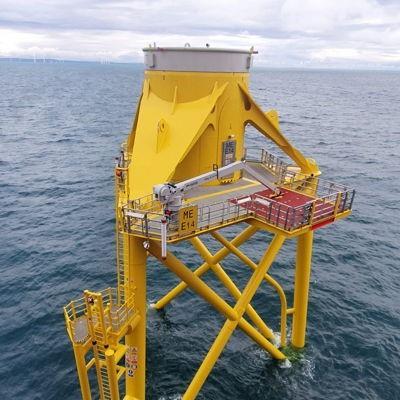 The offshore installation vessel Orion was originally scheduled to complete the installation works. DEME was due to accept delivery of the vessel during the second half of May 2020 but its 5,000-tonne lifting capacity crane collapsed during testing due to a faulty crane hook, as HLPFI reported here.
The offshore construction vessel Scylla was then mobilised to complete the jacket installation works.
The contract was placed in December 2018 for the design, fabrication, and installation of 103 foundation substructures and the installation of three topside structures.
DEME's vessel Apollo has installed 309 pin piles at 103 locations using a bespoke piling template. At each of the 103 locations, three pin piles – ranging in length from 30 m to 50 m – have been installed.
Bart De Poorter, general manager at DEME Offshore said: "Despite the many challenges brought to us by the coronavirus and the incident with the crane of Orion, our dedicated Moray East project team and all of our partners have done their utmost to make sure this complex project stays on schedule by closely coordinated teamwork."