Work has begun on the construction of a temporary works cofferdam at Northumberland Energy Park Phase 1 in Blyth, UK, which enables the construction of a new dock.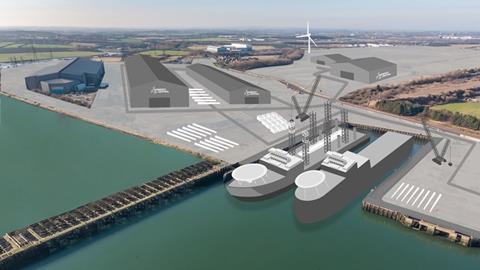 Northumberland Energy Park is part of Energy Central, the UK's port-based service, investment and growth cluster for companies operating in the offshore energy and subsea markets.
The new dock, which is being funded by a GBP32 million (USD37.5 million) public sector investment, is an extension of the current dock facilities. Work is set to be completed on the project by May 2021.
The dock will allow nearby companies to benefit from direct quay access to a 50 m x 210 m deepwater berth on the River Blyth.
Battleship Wharf, which is also part of the Energy Central cluster, offers an additional four deepwater berths, and there are additional marine facilities at the port of Blyth, which has access to open sea within 0.5 nautical miles.
Northumberland Energy Park Phase 1 is situated on the site once occupied by the Blyth Power Station facility. It offers 36 ha of development land, including an 11.12 ha North East Enterprise Zone site, where businesses receive up to 100 percent capital allowance for investment in plant and equipment.
Further development is planned for the 35 ha Northumberland Energy Park Phase 2 and the 95 ha Northumberland Energy Park Phase 3.
The site is strategically located for access to offshore energy developments in the North Sea, including offshore wind projects at Dogger Bank, Hornsea and the Firth of Forth. In addition, Northumberland Energy Park is situated in close proximity to Offshore Renewable Energy (ORE) Catapult's test and research facilities at Blyth.
Richard Wearmouth, chair of Advance Northumberland, said: "With Northumberland Energy Park Phase 1, we are building on Blyth's heritage in power generation, transforming a site previously associated with the fossil fuel industry and turning it into a major asset for the renewable energy sector, while supporting the UK's shift to clean growth."