Heavy haulage expert Allelys has transported two turbines and two generators from Belfast Harbour to Kilroot power station, Northern Ireland.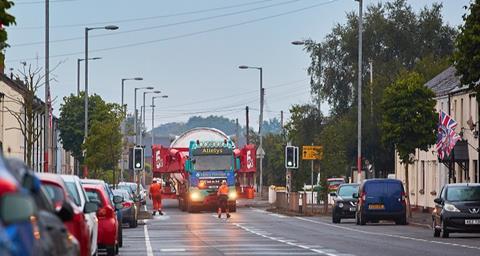 The turbines, which arrived in Belfast from the USA, weighed 317 tonnes each, whilst the generators, which arrived from Europe, weighed 370 tonnes each.
Allelys provided a full-service solution that saw the project completed in a two-stage transportation and installation process. After being offloaded onto trailers via geared vessel at the harbour, the cargo was temporarily stored. Girder frames were then used to move one turbine and one generator in convoy during a night move to Kilroot power station.
A Goldhofer Faktor 5 in a 28-axle configuration was used for the generator and a Goldhofer Faktor 5.5 in a 28-axle configuration was used for the turbine.
On site, the generator was transhipped onto SPMTs and finally installed onto the foundation using a four-point lift system – the same process was repeated for the turbine.
The team then travelled back to Belfast to load the remaining two units and repeat the transportation and installation phases.
The generators surpassed the existing record for heaviest loads to be transported on Northern Ireland's road network. It was also the second time Allelys deployed a double girder frame convoy this year, having transported a 150-tonne reactor and 195-tonne transformer to Ninfield during March, as HLPFI reported here.