The average daily multipurpose time charter rate for a 12,500 dwt/F-type heavy lift vessel, according to Toepfer Transport, hit USD21,863 in early February 2022.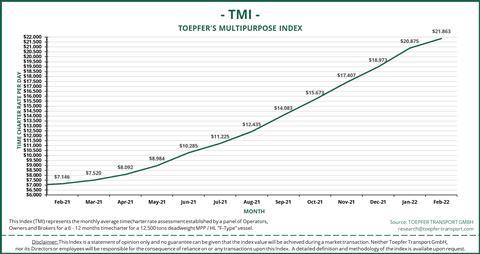 Representing a month-on-month increase of 4.6 percent, it seems that the upwards curve is flattening, commented Toepfer. For comparison, the month-on-month increase from December 2021 to January 2022 was 10.02 percent.
"It seems that the market is about to reach a plateau and may remain at current high levels for some more months with only minor corrections. Trades from and to the Far East are the key drivers, while in other trades the demand for cargo space is slightly cooling down," said the analyst.
In the next six months, Toepfer predicts that the rate will increase by 2.02 percent. For the next 12 months, however, the analyst forecasts a drop of 6.43 percent.
Still, the current rates are well above 2021 levels. In February 2021, the average time charter rate stood at USD7,146.