The average daily multipurpose time charter rate for a 12,500 dwt/F-type heavy lift vessel, according to Toepfer Transport, has surpassed the USD20,000 mark for January 2022.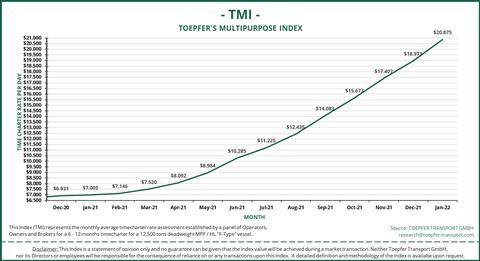 In its the latest Toepfer multipurpose index (TMI), the rate stood at USD20,875 – a month-on-month increase of 10.02 percent. In January 2021, the rate was USD7,005.
Toepfer's analysis now also includes index projections for the next six and 12 months based on market sentiment from TMI panellists, expressed as a relative growth or decline compared to the current value.
In six months time, the projection anticipates that the charter rate will be up 0.56 percent on the current rate. In 12 months, TMI predicts this figure will be down 8.7 percent.