Munich-based AKM Autokranvermietung has received two Liebherr mobile cranes – the LTM 1120-4.1 and an LTM 1650-8.1.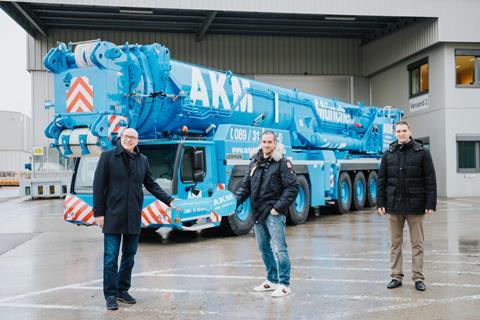 The LTM 1650-8.1 offers 700 tonnes of lifting capacity. Sven Bauer, managing director of AKM, said: "To date, our largest crane was a 500-tonne model. Being able to cover the 700-tonne class with the new Liebherr eight-axle crane is a major benefit for us."
AKM will primarily deploy the LTM 1650-8.1 for the erection of construction cranes using a luffing jib – on sites where the mobile crane cannot get close enough to the construction crane.
"The LTM 1650-8.1 can manage 19 tonnes with a hook height of around 80 m without requiring guying on the telescopic boom. That is perfect for 60 m construction cranes," Bauer said.
The company also received an LTM 1120-4.1 – the first of its kind in Germany, said Liebherr. Bauer said that AKM decided to invest in the 120-tonne capacity crane due to its performance on four axles, the compact chassis and 66 m-long telescopic boom.
"The LTM 1120-4.1 is extremely versatile in all areas. It requires very little space, reaches great heights and is also really powerful," Bauer added.