Crane contractors Gruas Aguilar and Eurogruas deployed more than twenty Liebherr cranes to refurbish the Santiago Bernabéu football stadium in Madrid, Spain.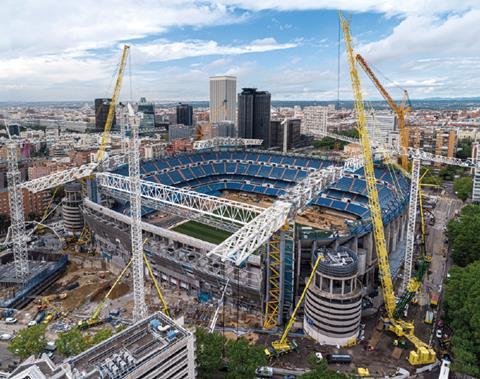 Gruas Aguilar had up to 18 Liebherr mobile and crawler cranes in play at the site, with lifting capacities from 40 to 1,200 tonnes.
Luis Aguilar, owner of Gruas Aguilar, said that extensive logistics and planning was required for such a range of cranes: "From the compact LTC 1050-3.1 and LRT 1100-2.1 rough terrain crane, to the LTM 11200-9.1, there was a full team on the pitch."
Liebherr said the key units in the operation were an LR 1600/2, an LR 1600/2-W from Gruas Aguilar, and an LR 1800-1.0 from Eurogruas. The cranes, which were on site permanently from June to December 2020, carried out a wide variety of hoisting work, including lifting the heavy girders for the roof structure into position.
Jose Garcia and Juan Ayora, Eurogruas project managers, were particularly impressed with the LR 1800-1.0: "We were completely reliant on the flexibility of the derrick ballast…The V-frame enabled us to position loads weighing between 40 and 213 tonnes with a very wide range of radii safely and precisely without having to move the crane on the site," they said.
The stadium, the home of Real Madrid CF, is expected to reopen in 2022.