Mammoet has installed four modular villas for Red Sea Global's Sheybarah island resort in Saudi Arabia.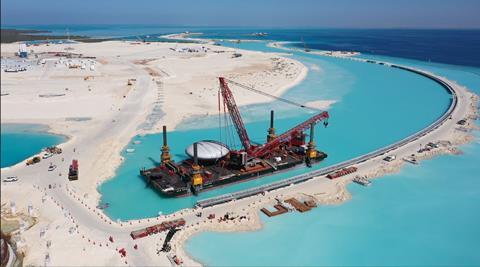 To avoid too much disturbance to the sensitive marine environment, Mammoet used its 650-tonne capacity Demag CC3800 crawler crane positioned on top of its modified ALE 250 barge.
At the UAE's port of Hamriyah's construction jetty, the crane loaded the first orb onto the barge deck and sailed to the installation area. Once on site, the barge was positioned and stabilised using a retrofitted 300-tonne Combifloat spud jacking system.
After that, the crane was raised to lift the orb into place - its superlift was replaced by a system designed specifically for the project where the back mast of the CC3800 was tied back to the barge. This gave the crane enough capacity to place the orb onto the foundation without requiring the additional mass of a superlift tray, said Mammoet.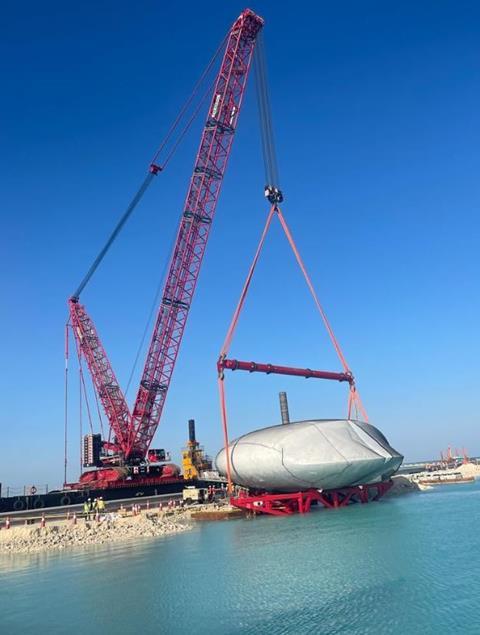 Robert van Tinteren, lead project engineer for Mammoet, said: "Creative engineering at its best. It has been an exciting nine months building up to this point, but it never gets tedious to see the incredible things we at Mammoet can do when we put our minds to it."
In May 2022, Mammoet was awarded the contract to transport and install 73 villa pods. To support the shipment of the villas from the UAE to Saudi Arabia, Mammoet has teamed up with P&O Maritime Logistics.