Saudi Arabia's Almajdouie Logistics completed several impressive projects in 2021, demonstrating its expertise in handling heavy and oversized cargo.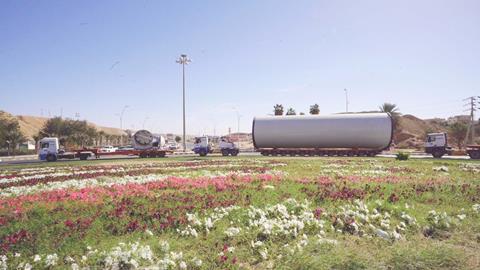 One of the milestone projects was the Dumat Al Jandal wind farm, which is an essential part of Saudi Arabia's national renewable energy programme and supports the Kingdom's goal to localise the production of renewable energy as part of its Economic Vision 2030.
Almajdouie provided transportation, storage, and heavy lift solutions for the project, moving 99 wind turbines 1,700 km from Duba port to the project site in the Al Jouf region.
Each turbine comprised 11 components, meaning Almajdouie had to coordinate the delivery of 1,100 units. The work called upon Almajdouie's specialised blade trailers.
Over the past couple of years, the company has significantly invested in its heavy-duty trailers, adding equipment from several leading manufacturers, including Goldhofer and Faymonville. Eyad Arafah, heavy transportation and project logistics director at Almajdouie, said that the company has added a total of 72 axle lines, wind trailers, 15 tractor units, and 12 blade trailer units.
The work on the wind energy project was finalised in April last year and shortly before that, in February, the company executed another impressive project: the transport of a 500-tonne transformer from southern Saudi Arabia to the northeast of the country.
Tank transport has also been a steady source of work for Almajdouie, which transported eight 180-tonne units from Jeddah to the Eastern Province. This was completed in August and was followed by the transport and installation of 100 tanks weighing 130 tonnes. These tanks were transported from Jubail to Nayriah site and were subsequently installed by SPMTs in Almajdouie's fleet during November.
The company ended 2021 with the transport of a gantry crane comprising 23 components weighing 500 tonnes each. The cargoes were moved from Ras Al Khair Industrial Port to King Salman Maritime City.
Arafah predicts that 2022 will be another busy year. "The market is starting to move, albeit slowly – enquiries are increasing."