Lift & Shift India has delivered 17 over-dimensional cargoes for Hindustan Urvarak & Rasayan Limited's (HURL) Barauni and Sindri fertiliser projects.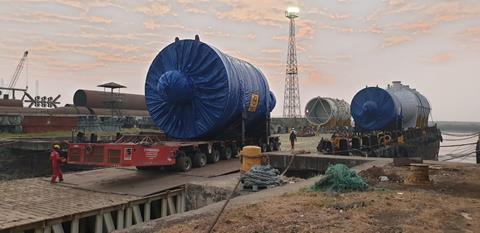 Lift & Shift moved the equipment from fabrications yards in Vadodara, Hazira and Mumbai, on behalf of Larsen & Toubro Hydrocarbon Engineering (LTHE) – an EPC contractor for both projects.
The shipment had a total volume of 14,000 freight tons and tipped the scales at approximately 3,000 tons (2,721.6 tonnes). The heaviest component was an ammonia convertor that weighed 600 tons (544.3 tonnes). Other cargoes included a flash drum, which measured 8.3 m tall.
The company's project scope included the land transport of the components to the nearest port to the respective fabrication facilities; the loading of equipment onto suitable barges; the chartering of a heavy lift vessel to move parts to Kolkata; and the transhipment of equipment onto barges that were modified and strengthened to withstand the heavy loads.
Once loaded on the reinforced barges in Kolkata, the units were transported along India's inland waterways – travelling along the Ganges to temporary jetties at the two project sites, where the cargoes were rolled off.
12 pieces of equipment were discharged at the temporary jetty at the HURL Barauni project site. The remaining five cargoes were offloaded in Sahibganj, 230 km away from the HURL Sindri site.
Throughout the project, Lift & Shift faced many challenges, including a delay in fabrication, which caused unexpected difficulties with regard to the chosen route for transport. For example, the Lift & Shift and LTHE teams had to meet with road authorities and request a delay to the construction of a bridge between Baroda and Surat so that the convoy could pass.
Lift & Shift also organised for 1 km of the waterway in Sahibganj to be dredged as a result of a drastic reduction in water levels.
The outbreak of Covid-19 threw up additional complications. Starting in the third week of March, partial lockdowns across India halted activities. Lift & Shift had to approach the relevant authorities to obtain special permission to operate and load cargo at the ports of Dahej and Mumbai, all while adhering to safety precaution.
In June, Lift & Shift began the road transport of the cargoes from Sahibganj to the Sindri site. Monsoons made the removal of electrical wires and the levelling of roads particularly challenging, and also meant additional civil works were required, as heavy rain washed away surrounding roads. Further still, sudden downpours would result in the cancellation of the operations.
Lift & Shift said that it took approximately 50 days to complete the 230 km journey from the jetty to the project site.
In spite of the unforeseen challenges and unfavourable weather conditions, Lift & Shift safely delivered all 17 units to both the sites to the satisfaction of the LTHE.