Boxco Logistics and Allcargo Logistics have completed their first shipment of cargoes for Indian Oil Corporation's (IOCL) MEG project in Paradip.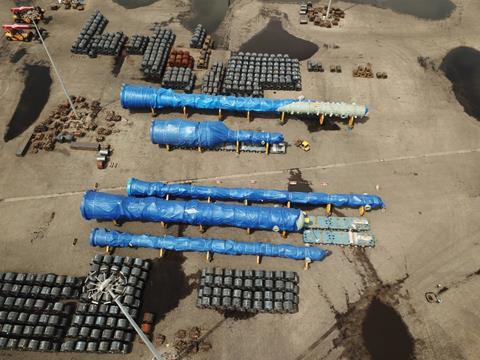 Nine heavy components, manufactured by L&T Hydrocarbon Engineering (LTHE), arrived at JMB's multipurpose terminal at Paradip International Container Terminal (PICT) during October 2020. Despite heavy rain and winds, SAL Heavy Lift's Amoenitas safely docked at the port.
The cargoes were discharged directly onto SPMTs. The size of the cargoes meant that Boxco had to made modifications at PICT – a port wall was removed and two road inclines were adjusted to create a level surface for the cargoes to pass.
27 major civil modifications were carried out along the route to the IOCL site, including the strengthening of an approach road and a causeway modification.
The greatest challenge was hauling the cargoes along a road that, in addition to requiring reinforcement, passed through the live refinery. Boxco conducted a number of surveys and meetings with IOCL and LTHE personnel to find a solution that minimised the civil works required, while keeping the refinery fully operational.
The heaviest item tipped the scales at 253 tonnes and measured 66.5 m x 6.8 mx 7.5 m.
A second shipment of goods is scheduled to land at PICT in January 2021.