Noble Shipping Services has coordinated the discharge and delivery of nine items, including one heavy lift, from the port of Karachi, Pakistan.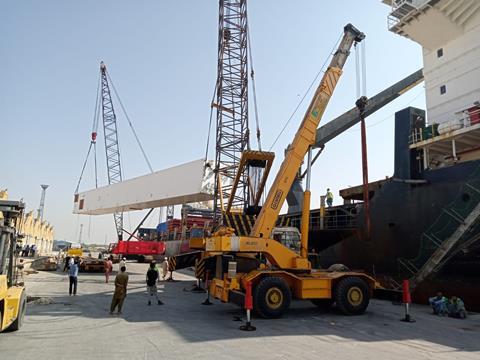 The combined weight for the cargoes totalled 190 tonnes. The heaviest unit weighed 126 tonnes and measured 41.2 m long, 4.7 m wide and 4.05 m high.
After arriving at the port of Karachi aboard a geared vessel, Noble Shipping Services said that the largest piece had been displaced from the ship's centre line. Meetings with stakeholders were held to draw up plans to ensure complete operational safety for the ship, cranes and all involved during the discharging operation.
The decision was to use two 300-tonne mobile harbour cranes to perform the lift, instead of the vessel's own gear. The ship was re-berthed portside to keep the ship's cranes clear of the lifting operations. The cargoes were finally secured onto a multi-axle trailer for onward delivery.
Noble Shipping is a member of the Project Cargo Network (PCN) in Pakistan.