On behalf of Cleveland Bridge, UK-headquartered Osprey has installed several bridges over the M4 motorway in the UK, as part of an ambitious Highways England infrastructure project.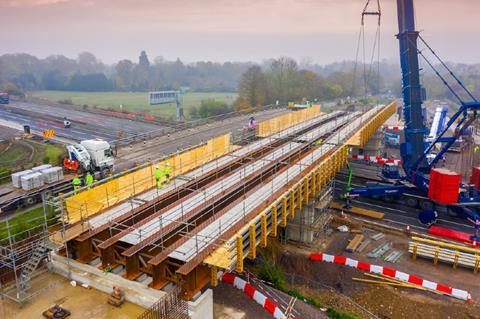 The M4 upgrade project will see a total of 12 bridge structures installed – 11 being replaced, and one being widened.
Osprey said that the most challenging phase of this project was the installation of an 80 m-long, 385-tonne bridge at Monkey Island. The steel girder structures for the bridge were delivered in pairs from Darlington by Collett & Sons, as HLPFI reported here.
Once the girders were connected, Osprey moved the bridge to the installation site using SPMTs. They were then lifted into place using an LTM 1800D telescopic crane.
After the Monkey Island bridge was lifted into place, the next six were installed between the months of April and June 2020, including the Thames Bray bridge – the only structure in the project that was an extension to an existing bridge.
The final five bridges are due to be installed by mid-August 2020.
In a separate project, Osprey installed an 81 m-long bridge section for a pedestrian and cycle bridge over the M56 motorway in Manchester, UK, on behalf of BCEGI UK Construction.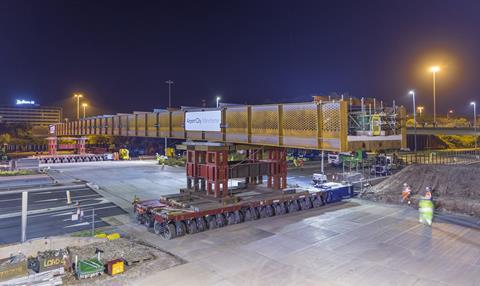 Osprey worked in partnership with Cleveland Bridge to assemble the components and install the bridge section using its hydraulic gantry system.
Osprey explained: "Our heavy lift cranes enabled us to load the full assembled bridge onto SPMTs and, having manoeuvred the structure into position, carry out self-offloading [using the hydraulic gantry system] with minimum disruption."