Volga-Dnepr has coordinated the delivery of over 200 tons (181.4 tonnes) of general cargo to the Novolazarevskaya research station in Antarctica.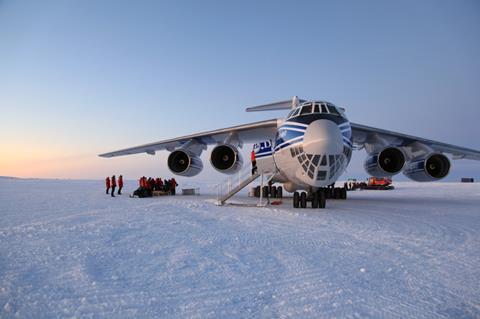 The airline executed five IL-76TD-90VD flights from Cape Town in South Africa, in close cooperation with the Antarctic Logistics Centre International (ALCI).
Volga-Dnepr said the cargoes were essential for the work of the research stations as part of the Dronning Maud Land Air Network Project (DROMLAN). The company has been supporting the programme since 2015 and has delivered 1,700 tons (1,542.2 tonnes) of general and special cargo to date.
Volga-Dnepr said that its expertise, experience, aligned procedures and capable fleet allowed it to accomplish landing and take-off operations on a glacial blue ice runway.
"The modernised IL-76TD-90VD aircraft provides a series of advantages in terms of its flying distance capability, payload weight capacity, hermetical cargo hold, and its fuel-efficient and environment-friendly engines. This enables Volga-Dnepr to complete cargo missions to any remote regions under severe weather conditions," Volga-Dnepr added.