The keel has been laid for CSBC-DEME Wind Engineering's (CDWE) offshore installation vessel Green Jade.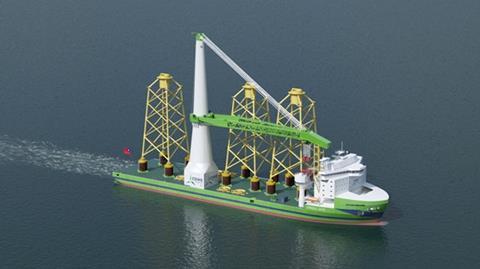 The construction of the vessel began during 2020 at CSBC's shipyard in Kaohsiung, Taiwan, as HLPFI reported here.
According to DEME, Green Jade is the first floating DP3 heavy lift and installation vessel to be built in Taiwan. With a lifting capacity of 4,000 tonnes, Green Jade will enable CDWE and its customers to transport the next generation of turbines, jackets and components in a single shipment, making it extremely cost effective, said DEME.
Hugo Bouvy, managing director of DEME Offshore, said: "We are proud to have successfully reached the next stage of the construction process. Green Jade highlights DEME's full commitment to the flourishing Taiwanese offshore wind market. This is underscored by the fact that this represents the largest single overseas investment ever made by the DEME Group. This special vessel is set to revolutionise the offshore wind sector, given its extensive capabilities and loading capacity.
"Our decision to make such a substantial investment – taken at the height of the pandemic – is already proving to be the right one. Indeed, Green Jade has a healthy orderbook for the first three years," Bouvy.
Set to enter service in 2022, Green Jade will be deployed for both the Hai Long and Zhong Neng offshore wind farms.