Malin Group has opened its 20,000 sq m G2 shed at Westway Park in Renfrew, Scotland.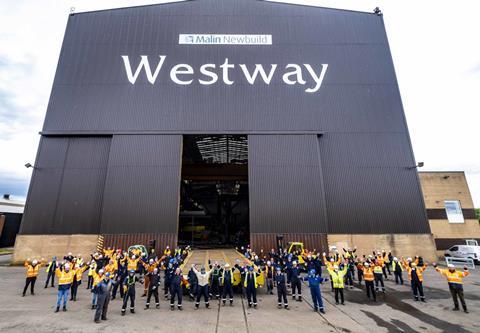 The fabrication facility, one of the largest of its kind on the west coast of Scotland, houses gantry cranes with lifting capacities of 100 and 500 tonnes.
While the facility officially opened on May 26, Malin Group picked up the keys to the facility last month and has already used the shed to build the first in a series of six lifting structures for the Hinkley Point C power station in Somerset.
Malin Newbuild partnered with Malin Abram and Caley Ocean Systems to build and transport large structures for Balfour Beatty, which will deliver the key offshore element of the Hinkley Point project from its site at Avonmouth.
The structures will support the construction of three tunnels under the seabed to supply the two reactors at Hinkley Point C with cooling water and then safely discharge it back into the Bristol Channel. Each DNV-certified structure will be used to lift a concrete slab weighing more than 3,500 tonnes in support of Balfour Beatty's seawater tunnelling campaign.
Each lifting structure weighs around 200 tonnes. All six units are due to be delivered by August of this year.
Ben Sharples, director of Malin Newbuild, said: "Drawing together engineering expertise across the Malin Group, we are ideally placed to design, build and transport large structures on a build to print or turnkey basis. The, on time, to spec delivery of 1,200 tonnes of high-integrity offshore structures for Balfour Beatty reaffirms our capability to service the market and opens the door to contracts of a comparable scale and complexity."
He added: "The expansion of our fabrication capability represents a well-placed feeder for future Malin Group expansion plans, with the upcoming opening of the Scottish Marine Technology Park, a hub of marine engineering and innovation."